Products
Welcome to the Diesmart store. These are all of the Diesmart products that are currently available for purchase.
Die$mart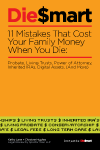 It's amazing.   We all know what happens if we run a red light…but few of us know the rules that manage our life as we age and need help managing our affairs…or when we die.
What is your end of life IQ?
Have you ever heard of living probate?  Do you think Medicare pays for long term care?   Do you know at what age your children have rights to their inheritance?  Is your estate subject to probate?  Do you know why living trusts are not just for rich people?  Do you know who has rights to your digital assets?  Have you maximized the value of your inherited IRAs and 401(k)s?  Have you accidentally disinherited someone when you complete a beneficiary form?
Get smart.  Don't leave a mess for you and your family.
$19.95
Download e-book

| | |
| --- | --- |
| Amazon | $29.95 |
Grave Robbers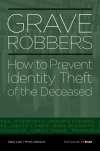 In 2008, more than 400,000 bank accounts were opened in the name of a dead person. No, you don't have to be alive to have your identity stolen. Identity thieves start with the obituary. They then glean other information from probate records. Finally, they get the big prize. Ninety days after someone dies, their Social Security number becomes public information. It couldn't be easier.
No wonder identity thieves find it easy to prey on the dead and compound the family's grief. Grave Robbers will teach you the steps you can take to prevent the financial identity theft of the deceased.
$19.95
Download e-book

| | |
| --- | --- |
| Amazon | $29.95 |