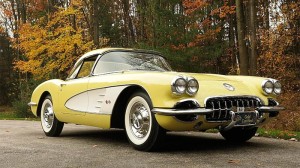 This story is taken from one published in the Daily Republic.
"A California judge will apparently decide who owns that yellow Corvette in June.
One thing we do know for sure is that 75-year-old George Bristol owned the Corvette, valued at some $97,000, prior to his death in a traffic accident on Dec. 14, 2016.
After that, though, the picture grows murky.
An administrator of the estate, Jared Bristol, says the Corvette is now in the possession of Laura Hazelett, who he claims in his lawsuit was having a relationship with George Bristol before he died late last year in his 2004 Toyota Tacoma, which left the road, went airborne, and crashed into the side of a large drainage canal.
Jared Bristol filed a lawsuit against Hazelett on Wednesday in Fairfield, Calif., claiming that she forged George Bristol's signature on forms that she filed in January 2017 with the Department of Motor Vehicles saying that George Bristol had given her the car two days before his death.
The lawsuit asks that the DMV not be allowed to transfer ownership of the Corvette to anyone while the estate is in probate.
The Daily Republic reached out to Hazelett for comment on the allegations of the suit but received no response."
If George Bristol had included his Corvette in his estate planning, this issue would not have arisen.  He could have named Hazelett or anyone else as the owner of the valuable car.  Whoever was named would have inherited it and there would have been no court fight.
Be sure that you have an estate plan and that it includes any valuable assets you own.  That way, you will save your loved ones time, effort and expense…and your wishes will be carried out.
For information about estate planning, go to www.diesmart.com.