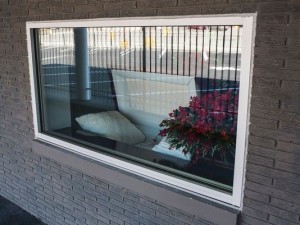 It is not a new concept but now Ryan Bernard of Memphis is joining the drive-thru visitation service trend. 
When Bernard bought an old bank building in Memphis to use for a funeral home, he found a unique use for the drive-thru window.  Guests can view the deceased's body through a bullet-proof window.  If they don't want to fuss with parking and getting out of the car or are afraid of funeral homes, guests can just drive up and pay their respects.  They can sign an iPad guest book and spend approximately 3 minutes alone with the body.
The drive-thru concept is a free add-on offered to people when they are planning a funeral.
According to Bernard, he's gotten a mostly positive reaction although some people have said they find it disrespectful.
His facility, R. Bernard Funeral Services, has already added live streaming of funerals and will continue to add innovative concepts.  He said, "The funeral industry is always changing every year. I keep the old traditional funeral stuff and try to add new stuff to it," Bernard said. "I am 41 years old. I am not out just to market to the grandmas and grandpas, I am trying to get the millennials and the Baby Boomers too."
Whether you want to add non-traditional elements to a funeral or just plan an "old fashioned" one, for more information go to www.diesmart.com.