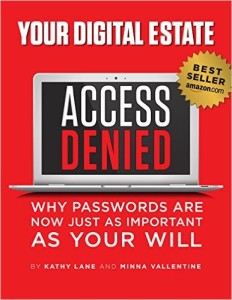 A Sad but True Story from Access Denied illustrates a major problem that many survivors face when trying to deal with their loved one's death.
"Marsha's husband, Greg, went bike riding with some friends, something he did most Sunday mornings. A car careened down the street and hit him; he was killed instantly.
"Greg was the main breadwinner and his income paid for their living expenses. His salary checks were automatically deposited into his bank account. Their bills, including mortgage, utility bills and insurance premiums, were automatically paid from this account.
"When he was killed, Marsha was distraught. The death was totally unexpected. Greg was 46 and in great health. She spent the first few months after his death just grieving and wringing her hands. She could cope with very little and wasn't thinking clearly. She never thought about the practicalities of how digital death were affecting her life.
"Because Greg was gone, paychecks were no longer being deposited into his bank account, so money to pay the bills quickly ran out. The checking account and the online utility accounts were set up with Greg's name and email address. Past due notices and notices of returned checks were being sent to Greg's email account, and Marsha knew nothing about them.
"Then, one day she came home to find she had no power. When she called the power company to find out what was wrong, they informed her that the bill for her address had not been paid. They had cut off the power and Marsha was in the dark with no heat and no electricity.
"Here's how the call went:
PG&E answering machine: Hello, how can I help you? Press 3 if you are calling for help with billing.
Marsha: Pressed 3
PG&E answering machine: Please enter your account number so we can help you.
Marsha: Thinking to herself: I have no idea what the account number is. We haven't received a paper bill in ages. Why don't they ask me for Greg's email? I know that.
PG&E answering machine: I'm sorry. Let's try again. Please enter the account number. We'll need that before we can help you.
Marsha: Clicking 0, 0, and 0 looking for a way to get connected to a real person.
PG&E (a real person): Hello, this is PG&E. How may we help you?
Marsha: The electricity at our house has been disconnected. I need to make a payment.
PG&E (a real person): Do you know the account number?
Marsha: No. My husband paid all of our bills.
PG&E (a real person): What is your husband's name?
Marsha: Greg Thomas.
PG&E: What is your relationship with Greg?
Marsha: I'm his wife.
PG&E: Is Greg there? We can't take a payment from anyone but Greg.
Marsha: No. Greg died several months ago.
PG&E: We are very sorry to hear that. Unfortunately, we can't take a payment or transfer service to your name without you being here in person and providing proof of your relationship to Greg.
Marsha: You're kidding right! It's 20 degrees outside, and I don't have any heat.
PG&E: I'm sorry. There is nothing we can do at this time. Please visit your PG&E office Monday morning with the right documentation, and they will be able to help you.
Marsha: (In one last effort for help) Can't you just give me Greg's password? I could log in and pay the bill electronically.
PG&E: Do you have documentation from Greg authorizing access to his account?
Marsha: No (thinking to herself: I have no idea what she is talking about).
PG&E: Sorry, there's nothing else we can do."
Don't let this happen to you.  Makes plans for what will happen to your digital estate when you die and protect your family.  For more information and help on this critical topic, get a copy of Access Denied today.