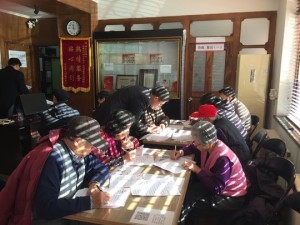 It's only been in the last 30 years that China has allowed people to accumulate wealth.  Prior to that, it really didn't matter.  There was no private property to pass along to a descendant so a will was not needed.
Now, some of the first generation to benefit from the ability to accumulate wealth are dying and it's causing a huge problem with inheritance disputes that are taking up the time of the courts and causing rifts between family members.
We came across a story in USA Today that illustrated the problem and explained what the Chinese government is trying to do to fix it.
"When people die without a will their children scramble for their property, damaging family ties and having a negative effect on society," the state-run Xinhua News Agency has warned.
"Only 1% of China's 220 million seniors have drawn up inheritance plans, according to best estimates.  The reason is cultural: talking about death is taboo and writing a will is akin to putting a curse on yourself."
"Consider the publicized case of Yan Jiying, a coal baron from the northern province of Shanxi.  He died in 2015 at the age of 71, leaving his estranged wife, long-term mistress and six children to fight over his assets."
"The government is calling on local authorities around the country to establish free legal centers for those over 60. One charity doing that since 2013 is the China Will Registration Center, founded by Chen Kai, a young lawyer with a passion to protect seniors. "
" The waiting list for appointments at his first Beijing center now stretches into September, proof that people will write a will if they can find support they trust, Chen said. "We want to teach old people that they are the masters of their fortune, that they have the right to decide what happens to their hard-earned money, " he said."
"On a recent morning around a dozen seniors were squeezed around a communal table at the center, diligently transcribing the final copy of their will. They begin by dictating their wishes to a lawyer, who types up a draft. The clients are then evaluated by a visiting psychiatrist to establish clarity of mind, they record video testimony of their wishes in the presence of two independent witnesses, and finally copy the final document by hand."
"For many, the last step is the hardest. Most are over 70 and have shaky hands or poor eyesight. Transcribing a page of formal Chinese characters mistake-free is no easy task. But Chen is adamant that they do it this way, saying he has seen too many badly written wills challenged. He wants his clients to be sure their wishes will be respected even if some family members do not like them."
Although the percentage of people in the United States having wills is much higher than 1%,  it's still below 50%.  If you don't have a will, you should consider preparing one so that your family won't have to deal with issues related to your estate once you're gone.  To find out more about preparing a will and other estate planning steps, check out our website http://www.diesmart.com.