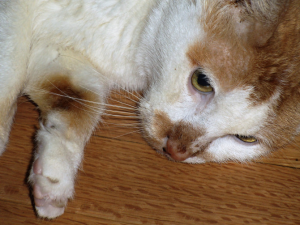 When Sophie Walter died in Illinois in 2009, she left behind a sizable estate, some of it in a pet trust for Taffy, her beloved cat.
The cat's money was paid out monthly to Taffy's caregiver, Karen Norwood (who had also been Sophie's caregiver at an assisted-living facility during the final years of her life).  The funds were used to cover Taffy's care and maintenance for the remaining years of her life.  She died last year at age 17.
In addition to the pet trust for Taffy, Walters left her money to several animal welfare charities.
Her story would never have been noticed if it weren't for $121,479 that had fallen through the cracks following her death.  This money was in a savings account she had at JP Morgan Chase Bank.  After five years with no activity on the account, the bank turned that money over to the state treasurer, as required by law.
Taffy's trust was only discovered when the state treasurer's office looked for the money's rightful owner.  Whether the money actually belonged to Taffy is unclear but it was passed on to the same animal welfare charities that had received the balance of Walter's estate.
A cat can't check the treasurer's unclaimed property database but you can.  It's a good idea to check it every so often in case you actually have an account you've forgotten about or a bequest from a now deceased relative has fallen through the cracks.
For more helpful hints about what to do after someone dies, check out our website http://www.diesmart.com.