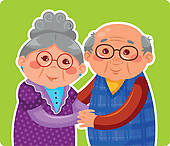 Many couples, especially those who get together later in life, are just living together.  For whatever reason, they've decided not to get married.  Living together, they accumulate stuff but who owns what?
One of the biggest problems with just living together is estate planning.  If you're one of these couples and you're not careful, your loved ones might end up losing their home and getting nothing.
If a partner dies without a will, this is called dying intestate.  In this instance, state intestacy laws determine who will inherit that partner's assets.  In most cases, that means a biological relative may inherit those assets, not the surviving partner.  This is probably not what either of the partners really wanted.  To alleviate this problem, a will should be drafted and executed by each of the partners.   It should include a statement that directly disinherits biological relatives and leaves the assets to the surviving partner.
Another document each partner should prepare is an advance  healthcare directive and durable power of attorney.  Unless these documents specifically name the other partner to make their medical decisions for them, a physician will not follow the instructions of anyone except a biological relative because of potential family objections.
A further document that should be considered – a revocable trust.  This will enable the partners to transfer property and money between them and will allow one partner to transfer control of his or her assets upon death.
A last point you should be aware of – the unlimited marital estate inheritance exclusion.  This exclusion cannot be used by an unmarried couple.  Instead, there may be sizable inheritance tax repercussions if estate planning is not done correctly.
It would be smart for any couple living together without the protection of marital laws to consult an estate attorney to find out what the best plan of action is for them.
For more information about estate planning, check out our website www.diesmart.com.