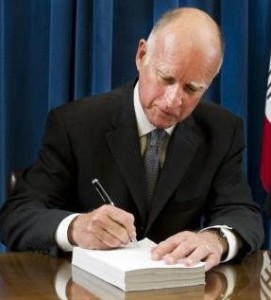 This past week, Governor Jerry Brown of California signed a bill into law that makes it legal for a dying person to end his or her life.  When Brown signed the bill, he also released a letter to the state assembly explaining why he agreed to sign it.
He said, "The crux of the matter is whether the State of California should continue to make it a crime for a dying person to end his life, no matter how great his pain or suffering.  In the end, I was left to reflect on what I would want in the face of my own death."
"I do not know what I would do if I were dying in prolonged and excruciating pain," Brown wrote. "I am certain, however, that it would be a comfort to be able to consider the options afforded by this bill. And I wouldn't deny that right to others."
The law requires that patients are able to administer the life-ending drug themselves.  Also, their decision must be submitted in written form, signed by two witnesses and approved by two doctors.
California becomes the fifth state to have a right-to-die law.  New Mexico, Oregon, Vermont and Washington are the others.
For more information about end-of-life decisions, go to www.diesmart.com.