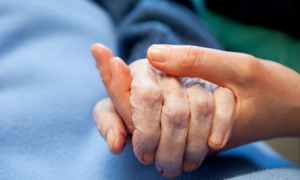 End of life planning is something most people don't want to think about.  They say that they still have time since they don't plan to die for many years.  However, this may not be true.  We can't predict when we're going to come to the end of our life.  We found two TED talks that are very thought provoking and may get you started on planning what you want to happen at the end.
The first talk "What really matters at the end of life" is by Dr. B.J. Miller.  "At the end of our lives, what do we most wish for? For many, it's simply comfort, respect, love. BJ Miller is a palliative care physician at Zen Hospice Project who thinks deeply about how to create a dignified, graceful end of life for his patients. Take the time to savor this moving talk, which asks big questions about how we think on death and honor life."
The second is "Let's talk about dying" by Dr. Peter Saul.  "We can't control if we'll die, but we can "occupy death," in the words of Peter Saul, an emergency doctor. He asks us to think about the end of our lives — and to question the modern model of slow, intubated death in hospital. Two big questions can help you start this tough conversation."
For more information on end of life planning, check out our website www.diesmart.com.