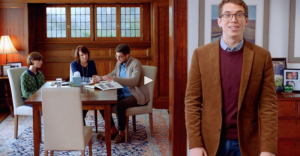 It used to be that if you wanted to plan your own funeral, you would sit down with pen and paper and write down your ideas.  The ideas might be very simple  or, conversely, completely elaborate.  However, they would only be documented on that paper you prepared.
Today there are alternatives.  Three of the latest apps that can help you are Everest, Cake and SafeBeyond.  These death apps promise to "help a person organize his or her entire online life into a bundle of digital living wills, funeral plans, multimedia memorial portfolios and digital estate arrangements."  In addition, some death apps digitally transmit account passwords to your loved ones after you die.
Another service, Afternote, offers templates so you can create a multimedia tribute about yourself while you're still alive.
The article I read on this subject had a headline "My name's Will, and I'm dead."  (See photo above.)  While he was still alive, Will left a detailed plan for the funeral he wanted and his family was able to use his plan to make arrangements.  He made a video explaining what he'd done and explaining why.  After his death, his loved ones watched the video and, although they were upset, the were not as stressed as they would have been if they had to plan the whole thing themselves and guess at what Will would have wanted.
Many people are beginning to incorporate their digital lives into their end of life plans and are recognizing how important a step it is.  According to a 2011 McAfee study, the average American valued their digital assets at around $55,000 and had at least 90 online accounts.    If the valued assets and access to the online accounts are not documented, they may all be lost after death.
It is important that you start making a plan today.  It doesn't matter whether it's on paper or developed thru an online software program like one of these.  Regardless, you should start planning today.
In addition to looking at software programs, you should read our book Access Denied to find out what you have to do to make sure that your loved ones will have access to everything once you're gone and check out our website www.diesmart.com.