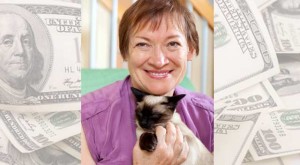 Lucky is a Siamese cat and, yes, the cat can inherit!
Lucille Benton, 70, has decided that she will leave her children their family heirloom and photographs but Lucky will get all of her money.  Lucille says that her kids "never visit and rarely call.  They have good paying jobs.  They can take care of themselves.  There is nobody to care for my Lucky."
Her kids have tried to have her declared insane and committed to an institution; however, she's had three independent psychiatric evaluations which have concluded that she is sane.  She says her attorneys have assured her that her Will will hold up in probate court if her kids try to challenge it once she's gone.
Meanwhile, Lucky will continue to live in Lucille's home with a staff of 40, a limo and chauffeur and a private aviary so Lucky can have fun catching and eating birds!
This may sound ridiculous but it does point out the importance of figuring out what you want to have happen to your assets when you're gone, and documenting those wishes so that they will be carried out…even if they are unusual.
To find out more about wills and planning for the end of your life, go to www.diesmart.com.