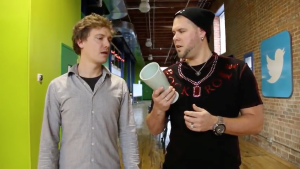 Last week, I wrote about glass art that can be fused with ashes from a deceased loved one.  This week, I came across something even more bizarre.
Chronicle Cremation Designs has launched a range of custom ceramic dinnerware glazed with the cremated ashes of dead loved ones.  Here's what it says on their website.
Justin Crowe, based in Santa Fe, New Mexico, mixes cremated human ashes into a glaze which he uses to coat bowls, vases, candle holders, coffee cups, urns and other ceramic items. Once they've been fired in a kiln, the glaze becomes food- and drink-safe, which means you could perhaps drink a coffee with an aura of grandma, or use something of old uncle Bernard to serve roast potatoes.
The idea developed out of an art project in which Crowe used the mixed ashes of more than 200 people to create a dinnerware collection called Nourish, and then used it to serve food at a party.
"I wanted to create a dinnerware set that infuses a sense of mortality into everyday life," he said, explaining that he bought human remains from bone dealers (who typically sell to medical professionals, students and oddity collectors) and then turned them into ash in the kiln before grinding them up with a mortar and pestle. He then mixed the powder into a glaze.
Now, you can send in about a cup of ashes from the remains of your loved one and have it made into an item that you can use every day.
This is definitely something for everyone, but….
For more cremation and funeral ideas, go to our site diesmart.com.