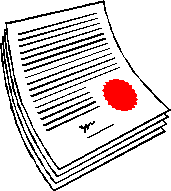 If you think a relative may be at risk of dementia or some other disease that will affect their reasoning ability, there are 5 legal documents you should get that relative to complete while still able to do so. Otherwise, when you become that person's caregiver, you will need to go to court to apply for guardianship and the right to make decisions on his behalf. That court application will typically take 6 – weeks and cost you thousands of dollars. If another family member contests your application, it will only take more time and cost even more money. Don't wait too long or it might be too late. Your relative may no longer be competent to make these critical decisions.
The 5 advance directive documents are:
A durable power of attorney – It gives you the right to make financial decisions for that relative. Those can be things like paying bills, selling property and making investments.
A healthcare proxy – This gives you the right to make medical decisions on the incapacitated relative's behalf. This can include things like what course of treatment to follow, which physician to choose and where treatment should be performed.
A living will – This states the medical treatment the person wants, or doesn't want, so the decisions have been made before you take over. They include things like whether medical personnel should try resuscitation if the person's heart stops, whether heroic measures should be taken, whether pain killers should be administered, etc.
A current will – If the person has an old will, it should be reviewed to make sure that it reflects his or her present wishes and circumstances. Perhaps the will was written several years ago and needs to be changed. The will should state what should happen to all assets after he or she is deceased.
You might want to also consider a living trust.   A living trust can make it easier for your fiduciaries to manage those assets while following the instructions of an incapacitated or deceased person.
State laws vary so you might want to consult an attorney when preparing these documents. And for more information about advance directives and wills versus trusts, go to www.diesmart.com.