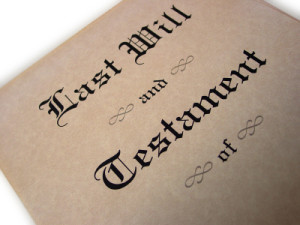 Yes, you do.  A will is a legal document which ensures that your property is transferred according to your wishes after your death.
If you don't have a will, here are five things that can happen.  We found this list at nerdwallet.com.
Spendthrift heirs – If you have heirs who aren't equipped to handle a large sum of money, receiving it may cause damage.  Perhaps these heirs are bad at handling money or, maybe, they're drug or alcohol addicts.
Unexpected or contested heirs –  There may be confusion about who the beneficiaries really are.  Sonny Bono, musician and politician, died without a will.  His ex-wife, Cher, and a man who said he was Bono's son tried to claim part of his estate, which his wife, Mary, contested in court.  Prince's estate is another classic example.  Many people came out of the woodwork claiming to be relatives, entitled to a piece of his assets.
Property (and probate) in multiple states – If you own property in more than one state, your estate will have to go thru the probate process more than one.  Probate is a costly and timely process, even if you just go through it once.  Image if you own property in four states and your heirs have to hire four attorneys and go through the whole process four times.
Fabricated wills – If you don't have a real will in place, it's possible for someone to create a fake one – especially if your estate is large.  A famous case involved the estate of tycoon Howard Hughes.  When he died, several supposed wills surfaced, and his estate spent millions of dollars defending against the false documents.
Beneficiaries don't like the court appointed executor – If there's no will, the probate court will appoint one.  It may likely be an experienced attorney but not necessarily one the family knows.  It may take a great deal of time for this person to take inventory, appraise assets and distribute the estate.  If you have a will and name a family member as executor, that person will usually do a much faster job, possibly because that person is also a beneficiary.
If you don't have a will, you should prepare one now.  Otherwise, your assets may not be distributed the way you want them to and a lot of extra money will go to attorneys and the probate court and not to your heirs.
For more information about wills, trusts and other estate planning documents, go to www.diesmart.com.